The NSCHBC is a national organization dedicated to serving the needs of healthcare consultants who provide ethical, confidential and professional advice to the healthcare industry.
The Mission of the Society is to advance the profession of healthcare business consultants by setting the standards for its members through education, certification and professional interaction.
Certified Healthcare Business Consultants provide expertise in:
Business Plans
Legal Structures and Agreements
Medicare and Medicaid Managed Care
Insurance Malpractice
Compliance
Medical Records
Human Resources
Scheduling Information
Technology Efficiency Management Marketing
Accounting
Practice Value Individual and Business Taxes Retirement Planning
Personal Financial Planning and much more….
If you are interested in learning more about certified healthcare business consultants or the NSCHBC, visit their web site at www.nschbc.org.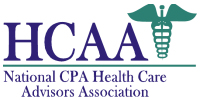 The HCAA is a nationwide network of CPA firms devoted to serving the health care industry. Members are selected for their experience and ability to provide proactive solutions to the accounting needs of physicians and physician groups.
HCAA members distinguish themselves by providing practice management and consulting services in addition to traditional accounting, tax and auditing services.
Serving physicians and other health care providers is no simple task; the industry is complex and the regulations are ever-changing. CPA firms join HCAA to access the networking opportunities, marketing support and educational programs they need to stay informed of industry trends and better serve their clients. HCAA helps members enhance and promote their health care niche.
If you would like to learn more about the HCAA, visit their website at www.hcaa.com.
Belonging to prestigious organizations such as NSCHBC and HCAA, aligns The Haynes Company with a network of accountants and consultants from all over the country. You can rest assured that when you choose The Haynes Company, you are choosing a company that is dedicated to providing the most cutting edge and valuable services possible.
Contact us to learn more about what we do.
ORGANIZATIONS
Updated on 2015-11-11T15:57:24+00:00, by Drew.